Hope for the Heart
June Hunt
Victory
Overcoming Negative Emotions
Price: ¥35.00
ISBN: 978-7-5443-3274-3
Paper: 14.7 X 21
Pages: 384
Category: Devotional
Harmony
Creating Authentic RelationshipsThat Last
Price: ¥35.00
ISBN: 978-7-5443-3275-0
Paper: 14.7 X 21
Pages: 400
Category: Devotional
Integrity
Building Strong Basis for Growth
Price: ¥35.00
ISBN: 978-7-5443-3277-4
Paper: 14.7 X 21
Pages: 380
Category: Devotional
Success
Fostering a Positive Attitude at Work
Price: ¥35.00
ISBN: 978-7-5443-3273-6
Paper: 14.7 X 21
Pages: 382
Category: Devotional
Love
Establishing Healthy Romance and Family
Price: ¥35.00
ISBN: 978-7-5443-3276-7
Paper: 14.7 X 21
Pages: 392
Category: Devotional
Practical counseling materials based on Biblical principles
Covers five major areas: Emotions, Life & Work Pressures, Relationships, Marriage & Parenting and Healing
Around 60 different topics
Other titles by June Hunt:
About the Author


June Hunt is the CSO & founder of Hope for the Heart, a worldwide biblical counseling ministry that provides numerous resources for people seeking help. June earned her Master of Arts degree in counseling from The Criswell College. She is a visiting professor of Dallas Theological Seminary. Whether writing, speaking, or singing, June Hunt is dedicated to presenting Biblical Truth for Today?s Problems. June authored and published the Biblical Counseling Keys, an in-depth, topical counseling library. She readily shares the truth that a changed mind produces a changed heart? and a changed heart produces a changed life with Hope for the Heart broadcast program and training programs.
Information
Hope for the Heart series is practical counseling materials based on Biblical truth. It?s the result of years of research and counseling with suggestion, affirmation and applause from many professional counselors to bring healing and hope to broken hearts.
This outline-format resource gives definitions, characteristics, causes and steps to solution for real-life topics and reinforces the importance of Christ-centered living.
Definition: help you to look at the problem in God?s way.
Characteristic: provide Biblical focus and facilitate change.
Causes: explain the symptom and cause.
Solution: work out steps to get rid of bondage and build godly character.
VICTORY: Overcoming Negative Emotions
Rebellion – Reclaiming the Rebel
Guilt – Living Guilt Free
Loneliness – How to Be Alone but Not Lonely
Envy & Jealousy – Taming the Terrible Twins
Pride & Humility – The Prescription for ?I? Strain
Rejection – Healing a Wounded Heart
Fear & Phobias – From Panic to Peace
Anger – Learning to Act rather than React
Prejudice – Pulling Up the Roots of Pride
Depression – Walking from Darkness into the Dawn
Worry – The Joy Stealer
Self-Worth – A Matter of Vision
HARMONY: Creating Authentic Relationships That Last
Caregiving – A Privilege, Not a Prison
Communication – The Heart of the Matter
Conflict Resolution – Solving People Problems
Confrontation – Restoring Troubled Relationships
Critical Spirit – Be an Encourager, Not a Critic
Forgiveness – How to Forgive ? When You Don?t Feel Like It
Friendship – Iron Sharpening Iron
Intimacy – Learning the Language of Love
Manipulation – Severing the Strings of Control
Mentoring – How to Shepherd the Sheep
Reconciliation – Restoring Broken Relationships
Submission – Yielding from a Spirit of Strength
Victimization – Victory Over the Victim Mentality
INTEGRITY: Building Strong Basis for Growth
Ethics & Integrity – The Same in the Dark as in the Light
Decision Making – Discerning the Will of God
Habits – Success in Self-Control
Aging – Wisdom for the Winter Years
Sexual Integrity – The Choices & Challenges of Sexual Passion
Hope – The Anchor of the Soul
Identity – Do You Know Who You Really Are?
Trials – Seasons of Suffering
Temptation – Promise of Pleasure, Lured by a Lie
Success through Failure – From Stumbling Stones to Stepping Stone
Purpose in Life – Pinpointing Your Priorities
Counseling – Biblical Hope with Practical Help
SUCCESS: Fostering a Positive Attitude at Work
Employment – Be Extraordinary among the Ordinary
Financial Freedom – Principles of Wise Money Management
Lying – How to Stop Truth Decay
Perfectionism – The Push to Perform
Procrastination – Preventing the Decay of Delay
Prosperity – Strategies for Success
Stealing – Catch the Thief Hiding in Your Heart
Stress Management – Beating Burnout Before It Beats You
Time Management – Maximizing Your Minutes
Workaholism – The Beeline to Burnout
LOVE: Establishing Healthy Romance and Family
Singleness – Single and Satisfied
Dating – The Waiting Game
Premarital Counseling – Are You Fit to Be Tied?
Marriage – To Have and to Hold
Unbelieving Mate – Becoming a Winsome Witness
Adultery – The Snare of an Affair
Divorce – A New Beginning from Brokenness
Single Parenting – Success with God as Your Partner
Parenting – Steps for Successful Parenting
Teenagers – Helping Teens through Turbulent Times
Adoption – A Child Born in the Heart
Codependency – Moving from Bondage to Balance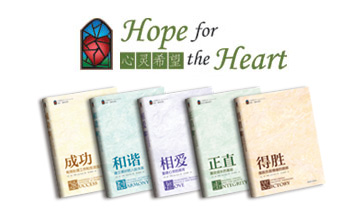 5-Book Set: ¥175.00