Auto-B-Good DVD Series

Information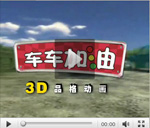 Welcome to the City of Auto, a place where adventure and fun are all along the road to maturity! Auto-B-Good is the Emmy? Award winning animated series that teaches great lessons in character development to children ages 4-10. Currently airing on Public Television stations across the United States and expanding around the world, this series is one of the most popular character education series today.
Each package contains: 1 DVD, an activity book with stickers, a colorful poster and a collectable backboard. Each DVD in the series contains 3 episodes, 3 Christian music videos PLUS bonus episodes for a total run time of approximately 50 minutes.
Auto-B-Good: Fruitful Pursuits
Price: ¥36.00
ISRC: CN-C08-10-0060-0/V?G4
Format: DVD, NTSC, Color
Number of discs: 1
Total Run Time: approx. 50 mins.
Language: English / Mandarin
Subtitles: Simplified Chinese
Join the cars of Auto as they investigate an amazing mystery! Along the way they learn that being quick to judge is not a good thing and forgiveness is in order.
Episode 1 – Unusual Suspect (Slow to Judge)
Somebody took the statue of CJ Willey, and everyone in town is on the trail. Could it be Igor, the mysterious junkyard dealer, or Marley the reclusive artist? A mystery of epic proportions!
Music video: Innocent
Episode 2 – Case Of The Missing Statue (Forgiveness)
Our friends risk secret passages and a city-wide chase to find the missing statue of CJ Willy – see the conclusion of the case, with an eye opening surprise ending!
Music video: Don't Forget to Forgive
Episode 3 – Car Tuned & Ready (Selflessness)
Franklin complains that Johnny will always be selfish, but Johnny surprises him by putting others first.
Music video: Giving It Away
Bonus episode – Friends To The Rescue (Confidence)
EJ makes a series of sporting errors and experiences a loss of confidence. His good friend Johnny, with the help of Professor's inventions, brings EJ's confidence back in line.
Auto-B-Good: Mission Possible
Price: ¥36.00
ISRC: CN-C08-10-0062-0/V?G4
Format: DVD, NTSC, Color
Number of discs: 1
Total Run Time: approx. 50 mins.
Language: English / Mandarin
Subtitles: Simplified Chinese
Join the Auto-B-Good cars as they climb higher, gain wisdom and discover the power of imagination.
Episode 1 – Daring Dreamers (Determination)
Miles dreams of climbing mountains, but is afraid and Izzi wants to be on the Rescue Squad, but is too small. Through hilarious adventure these two learn it will take determination and friendship to hold on to their dreams.
Episode 2 – Get The Oomph! (Wisdom)
A high octane energy drink, gives EJ the "Oomph!" he needs to challenge Mr. Morgan's soccer record, but when the dangerous drink is banned, EJ must weigh the price of winning at all costs.
Episode 3 – Cotu Comics (Imaginative)
The laws of science are stacked against EJ and his dream of flying, but with the Professor's wise words about the power of imagination, EJ soars to unexpected new heights.
Bonus Episode – Miles to the Rescue (Courage)
Miles claims to have courage, yet he won't race with Johnny on the overlook. Wisely he decides to watch the race and demonstrates true bravery!
Auto-B-Good: Shifting to High Gear
Price: ¥36.00
ISRC: CN-C08-10-0061-0/V?G4
Format: DVD, NTSC, Color
Number of discs: 1
Total Run Time: approx. 50 mins.
Language: English / Mandarin
Subtitles: Simplified Chinese
A tire shortage hits the City of Auto, Izzi learns the importance of restraint and Derek gets overhauled! Children will learn the importance of sharing, restraint and self-acceptance with these exciting episodes. Also included is a bonus episode where the whole Auto gang learns to persevere!
Episode 1 – A Taxing Problem (Sharing)
When a tire shortage that hits the City of Auto keeps Miles from competing in the State Safety Derby, Johnny has an opportunity to look past his selfish ways and make a real sacrifice.
Episode 2 – Issadora's Box (Restraint)
It's Izzi's birthday soon, but she wants to open her present now. The result is trouble for the whole town, but there is more than one character in this story who needs a lesson in self-control.
Episode 3 – Extreme Overhaul (Self-Acceptance)
The popular TV show "Extreme Overhaul" has Derek believing he's just a regular truck with a boring life, but after getting his new look he discovers his old life wasn't so bad after all.
Bonus Episode – The Secret of Success (Perseverance)
Ah, Spring Break! And everyone is lounging around – until Franklin encourages them to try something new. But setting goals are easier than achieving them, and will they have the perseverance to keep going?
Cast of Characters








Johnny is the fun-loving thrill seeker who is always getting into mischief. The only thing he likes better than going fast is staying ?squeeky clean? at his favorite car wash. While he can be self-centered or a bit insensitive at times, Johnny is always an enthusiastic friend and loves to offer advice to the younger cars.
Cali is the perky valley girl who loves a great deal when she?s shopping and is a phenomenal mini golfer. Even though she doubts herself and her own abilities, Cali is very talented and is also great at encouraging others when they are feeling down.
EJ is an athletic and imaginative ?every car? who loves to skateboard, play soccer and spend the day drawing his own comic books. EJ is competitive and puts his all into everything he does. While he still has a lot of growing up to do, he?s got a lot of older cars around to help him on his way.
Issadora ?Izzi? is the sweet little car who loves to sing and is best friends with EJ. Conscientious and intelligent, Izzi is usually the tiny voice of reason when EJ is about to do something he shouldn?t. Izzi doesn?t always like being the smallest one, and sometimes the other cars overlook her, but she is tenacious and sticks by her friends.
The Professor, or simply Professor as he is known to his friends, is the wacky inventor who lives on the hill. He is the only citizen in the City of Auto with his own observatory, which he does not use for spying. He has a brilliant scientific mind that is always coming up with new ideas, but he has trouble staying organized and occasionally his inventions backfire, yet inevitably end up helping the community.
Franklin is the voice of experience and wisdom in the City of Auto. He always has wise counsel to offer whenever the other cars find themselves in a situation. A respected pillar of the community, Franklin enjoys sharing and nurturing the younger cars so that they will grow up to be great citizens in their own right.
The nervous and safety conscious Miles likes nothing more than to curl up with a nice book in the comfort of his house. Unfortunately for him, adventure always seems to find him. Miles is an intellectual and loves learning, but he is always being pushed out of his comfort zone by the others. He is level headed and logical most times, but does suffer from anxiety and irrational fear sometimes.
Athletic and tough, Maria is the local off road champion around the City of Auto. Maria is usually up early, training to improve herself. She likes nothing more than being covered in the dust and mud of the road. Maria is giving and is always around to add a wise female perspective to whatever situation the younger cars find themselves in.
Faithful and true, Derek is the hard-working country truck who loves to help his friends fix things or haul a heavy load. Derek is practical, level-headed and a bit old-fashioned. He sometimes struggles to ?change with the times? and can?t help but get into arguments with his friend Johnny. Derek is known for being honest and dependable.