Do Hard Things
Alex Harris and Brett Harris
Price: ¥36.00
ISBN: 978-7-5316-8983-6
Paper: 17 X 23
Pages: 256
Category: Youth
About the Author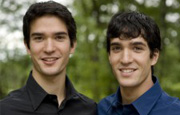 Alex and Brett Harris founded TheRebelution.com at sixteen years old and co-authored two best-selling books by the age of twenty-one. The twins have been blessed to travel and speak in major cities around the world. They are are sons of homeschool pioneers Gregg and Sono Harris and younger brothers of best-selling author Joshua Harris (I Kissed Dating Goodbye, Boy Meets Girl). Raised in Portland, Oregon, the brothers are graduates of Patrick Henry College.
Information
Combating the idea that adolescence is a vacation from responsibility, the Harris twins weave together biblical insights, history, and modern examples to redefine the teen years as the launching pad of life. They map a clear trajectory for long-term fulfillment and eternal impact with five powerful ways teens can take action for personal and social change.
Written by teens for teens, Do Hard Things is packed with humorous anecdotes, practical examples, and stories of real-life ?rebelutionaries? in action. The Harris brothers challenge young people to take action and lay claim to a brighter future, starting today.