Solomon & Friends™ NEW ED.
AiWangLe
Prayer
Price: ¥12.00
ISBN: 978-7-5104-3895-0
Paper: 21.7 X 21.7
Pages: 36
Category: Children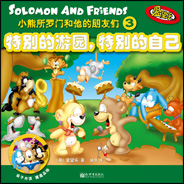 Wonderfully Made
Price: ¥12.00
ISBN: 978-7-5104-3895-0
Paper: 21.7 X 21.7
Pages: 36
Category: Children
Christmas
Price: ¥12.00
ISBN: 978-7-5104-3895-0
Paper: 21.7 X 21.7
Pages: 36
Category: Children
Forgiveness
Price: ¥12.00
ISBN: 978-7-5104-3895-0
Paper: 21.7 X 21.7
Pages: 36
Category: Children
Trusting God
Price: ¥12.00
ISBN: 978-7-5104-3895-0
Paper: 21.7 X 21.7
Pages: 36
Category: Children
Teaching Kids About Everyday Life Issues
Gift Pack
Price: ¥60.00 (set of 5 books)
Prayer
Forgiveness
Being Wonderfully Made
Trusting God
Christmas
Other titles by AiWangLe:
About the Author


AiWangLe is committed to promoting love, faith and joy among children and in the Chinese family. Their materials have been developed from materials proven worldwide. Look for the AiWangLe name to discover trusted resources and products devoted to developing healthy, mature and spiritually strong children.
Information
This set of Solomon and Friends? books is a five-book series. They are popular in America for young kids. Solomon and Friends? contain moral education. This series will help children learn about five basic character traits important for life: asking for something they desire and learning to wait for the answer; forgiving the wrongs others have done, so that when they themselves do something wrong, they can be forgiven too; having confidence and understanding that everybody is wonderfully made and has their own special gifts; learning to trust; and having love for others.