The Big Picture Story Bible
David R. Helm / Gail Schoonmaker
Old Testament
Price: ¥69.00
ISBN: 978-7-304-04332-2
Paper: 22.5 X 22.5
Pages: 216
Category: Children / Inspirational
New Testament
Price: ¥69.00
ISBN: 978-7-304-04332-1
Paper: 22.5 X 22.5
Pages: 223
Category: Children / Inspirational
About the Author
As a church-planting pastor and father of five, David R. Helm combined his confidence in God's Word and his respect for the spiritual capacity of children to write this book. He is senior pastor of Holy Trinity Church in Chicago.
About the Illustrator
Growing up, Gail Schoonmaker loved to draw pictures depicting the songs and stories she heard in church. She earned a B.A. in art from Wheaton College and makes her home in Chicago's Hyde Park neighborhood with her husband, Keith, and their four children.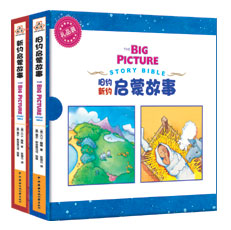 The Big Picture Story Bible Gift Pack
Price: ¥138.00
Information
No child is too young to begin learning about the greatest love story of all ? God's love for his people, as portrayed in the Bible. David R. Helm and Gail Schoonmaker collaborate to create a beautifully illustrated book of Bible stories especially for children, written with simplicity. Rather than simply retelling the most familiar short scenes from the Bible, this book presents the "big picture" ?the unified story running through the Old and New Testaments. This delightful book will help children learn the Bible's whole story and begin to appreciate the fulfillment of God's promise to his people.
The Big Picture Story Bible is perfect for parents to read to their children, and eventually, for children to read on their own. It is an excellent way to introduce them to a book that will guide them through all of life.