Soul Harvest
Tim LaHaye / Jerry B. Jenkins
Price: ¥28.00
ISBN: 978-7-80211-368-8
Paper: 15.5 X 23
Pages: 268
Category: Fiction
Follow what's left of the Tribulation Force as each member struggles to survive and fight the Antichrist until the glorious appearing of Christ.
About the Author


Tim LaHaye is a renowned prophecy scholar, minister and educator. He has written over fifty works that have been published in over thirty languages, including Spirit-controlled Temperament which is already published in Chinese.
Jerry B. Jenkins is the author of more than one hundred books. His books can be found regularly on the New York Times best-seller lists. He and his wife, Dianna, live in Colorado Springs.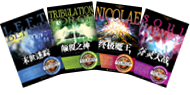 www.leftbehind.com.cn
Information
As the world hurdles towards the Trumpet Judgements and the great soul harvest prophesied in Scripture, Rayford and Buck begin searching for their loved ones from different corners of the world.
Can Tsion be rescued? Will Chloe be found alive? Amanda? Hattie? And what of the dark charges that rise against Amanda? Rayford is determined to clear her name whether she is dead or alive.
The story is based on the prophecies in the Book of Revelation and opens with the disappearance of people throughout the world because of the rapture. This book takes readers through a story full of suspense and excitement.