Left Behind
Tim LaHaye / Jerry B. Jenkins
Price: ¥25.00
ISBN: 7-80109-789-0
Paper: 15.5 X 23
Pages: 261
Category: Fiction
A gripping account of the end of the world based on the book of Revelation
Listed on the New York Times best-selling list six times
Gives an account of the rapture and the resultant worldwide chaos
About the Author


Tim LaHaye is a renowned prophecy scholar, minister and educator. He has written over fifty works that have been published in over thirty languages, including Spirit-controlled Temperament which is already published in Chinese.
Jerry B. Jenkins is the author of more than one hundred books. His books can be found regularly on the New York Times best-seller lists. He and his wife, Dianna, live in Colorado Springs.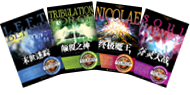 www.leftbehind.com.cn
Information
The Left Behind series is now composed of 15 novels published by Tyndale House in the USA. Co-authored by two different writers living in different cities, theologian Tim LaHaye and novelist Jerry Jenkins spent 10 years to complete the series. Presently the series has already been translated into thirty-five languages with over sixty-five million books sold worldwide.
The story is based on the prophecies in the Book of Revelation and opens with the disappearance of people throughout the world because of the rapture. This book takes readers through a story full of suspense and excitement.